Everyone just got back from the Bugeater GT 2012. What a blast! Friday night all of the north west AR guys and the central AR guys went out to down town Omaha for a night out. I pretty well only remember 3 pitchers and 4 das boots but know much more was consumed.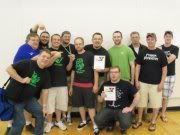 I ended up winning two paint awards for their 'Golden Gobo' and a best of all in the 40k section. I also one sweepstakes runner up for warhammer fantasy. Which was basically their version of 2nd over all.
The Bugeater GT was a fun event and super well ran. Their parring system was very weird. They paired you up with win loss and didn't take battle points into consideration which day two put people with the same win loss record buy off by 20 battle points playing each other. The terrain seemed a little sparse as well. Those are my only two criticisms though. I would easily recommend anyone go to it as it was a great event overall.
I may have time to do some quick battle reports later in the week.